Graphics Engine

AMD Radeon RX 5600 XT

Bus Standard

PCI Express 4.0

OpenGL

OpenGL®4.6

Video Memory

GDDR6 6GB

Engine Clock – OC Mode

up to 1670 MHz (Game clock**) / ~ 1770 MHz (Boost clock*)

Engine Clock – Gaming Mode

up to 1670 MHz (Game clock**) / ~ 1750 MHz (Boost clock*)

Stream Processors

2304

Memory Speed

Up to 14 Gbps***

Memory Interface

192-bit

Resolution

Digital Max Resolution:7680×4320

Interface

HDMI Output : Yes x 1 (Native) (HDMI 2.0b)
Display Port : Yes x 3 (Native) (DisplayPort 1.4)
HDCP Support : Yes (2.3)

Maximum Display Support

4

NVlink/ Crossfire Support

Yes ****

Recommended PSU

450W

Power Connectors

1 x 6-pin, 1 x 8-pin

Accessories

1 x Speedsetup manual
1 x Thank you card
1 x ROG Velcro Hook & Loop

Software

ASUS GPU Tweak II & Driver
(please download all software from the support site.)

Dimensions

11.96 " x 5.12 " x 2.13 " Inch
30.37 x 13 x 5.39 Centimeter

Slot

2.7 slot

Note

*Game Frequency is the expected GPU clock when running typical gaming applications. Actual individual game clock results may vary.
**Boost frequency is the maximum expected GPU clock when lighter workloads are run under ideal thermal and electrical condition, set to typical TGP(Total Graphics Power). Actual individual boost clock results may vary.
*** Please find the guideline for VRAM OC Tool :https://www.asus.com/support/FAQ/1042818
****Crossfire support with DX12 and Vulkan only.
All specifications are subject to change without notice. Please check with your supplier for exact offers. Products may not be available in all markets. If you do not use the latest and current specifications of ASUS products, you shall be liable for all loss and damage claimed by third party to ASUS based on false advertising or any other issues caused from using false specifications of ASUS products.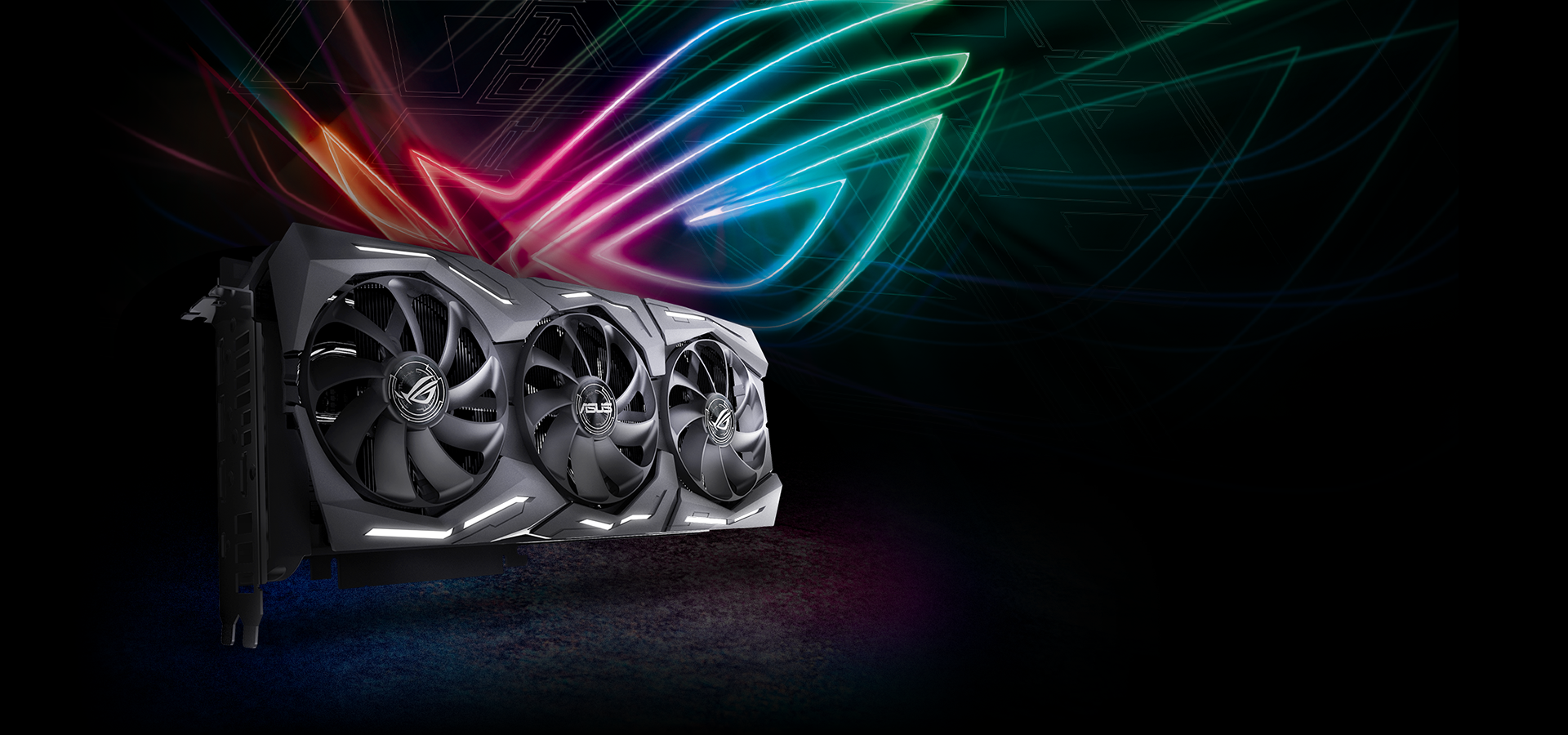 Take Flight
The ROG Strix Radeon™ RX 5600 XT is armed to dominate 1080p gaming. Components on the surface of the PCB are precisely soldered with Auto-Extreme Technology and the GPU chip is cooled using MaxContact and a beefy heatsink. On top, three fans leverage our new Axial-tech design, which surpasses our own industry-leading fans from the last generation. In-between those layers are a myriad of additional features like 0dB mode, a reinforced frame, Super Alloy Power II components, and more.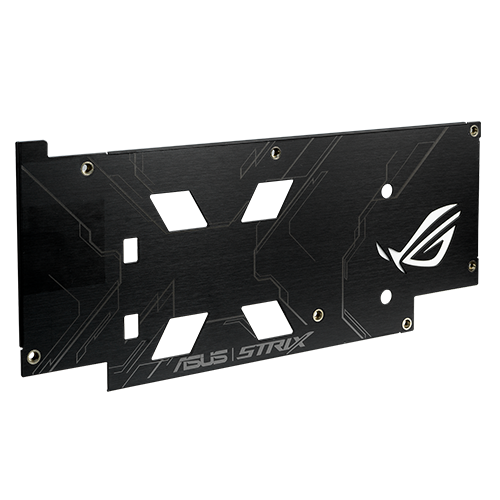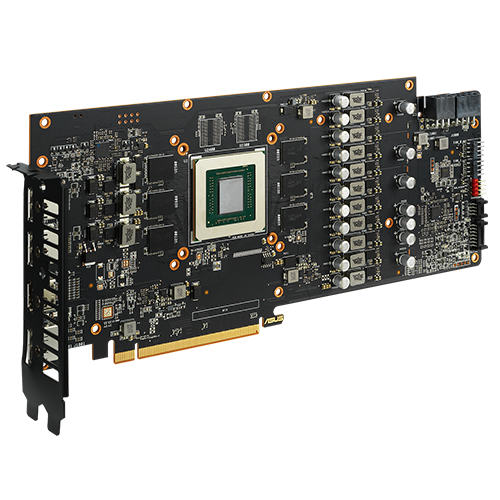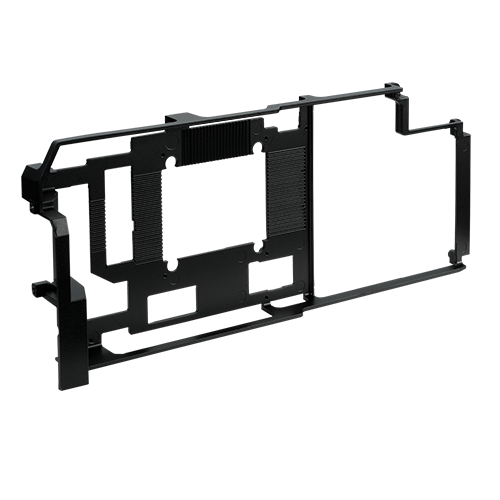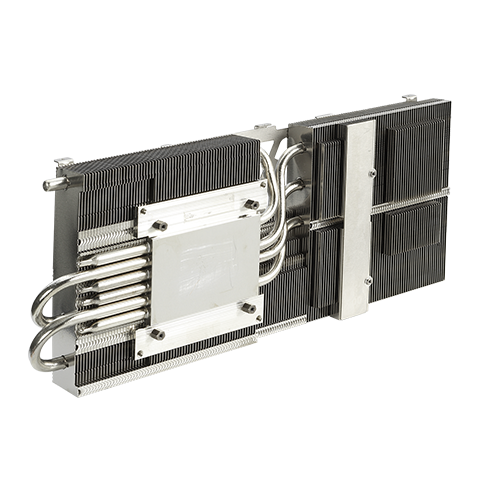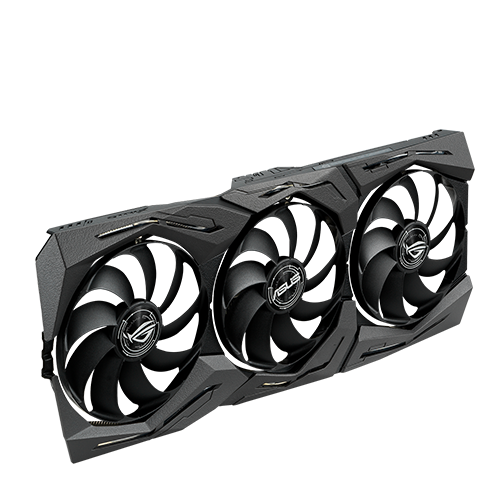 COOLING
Axial-tech Fan Design
Better, faster, stronger
Newly designed for the latest generation of top-end ROG graphics cards, these fans feature a smaller hub that facilitates longer blades and a barrier ring to increase downward air pressure.
ENGINEERING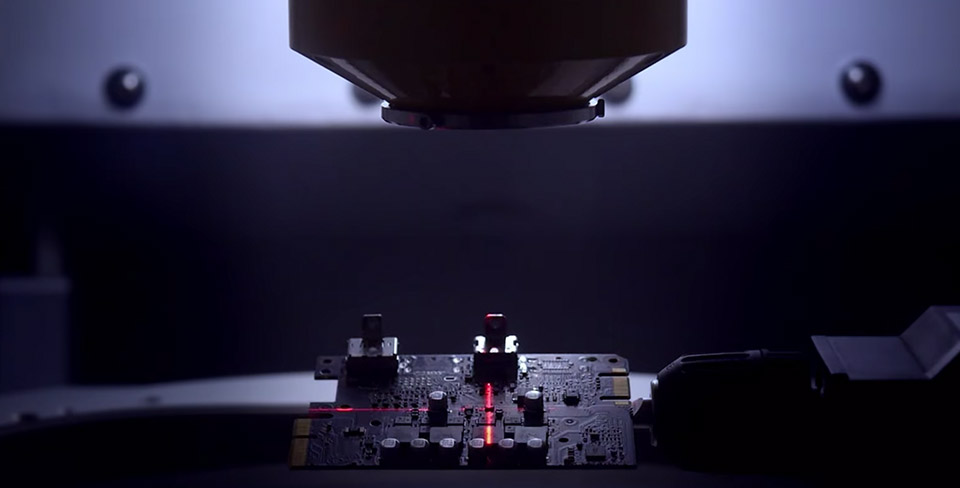 Auto−Extreme Technology
Precision automated manufacturing
Auto-Extreme Technology is an automated manufacturing process that sets new standards in the industry by allowing all soldering to be completed in a single pass. This reduces thermal strain on components and avoids the use of harsh cleaning chemicals, resulting in less environmental impact, lower manufacturing power consumption, and a more reliable product overall.
EXPERIENCE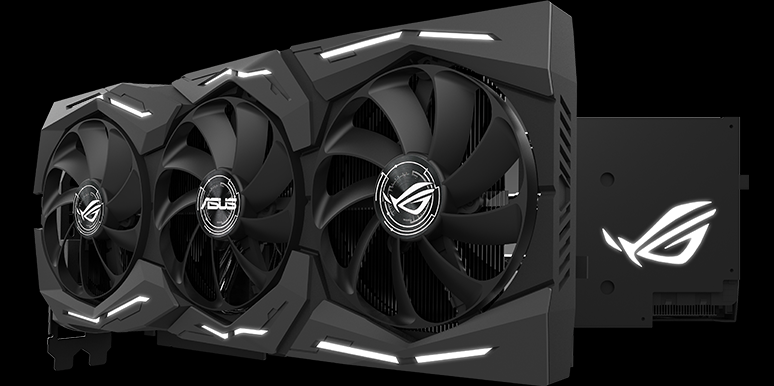 Static
Always on

Breathing
Fades in & out

Strobing
Flashes on & off

Color cycle
Fades between the colors of the rainbow

Music effect
Pulses to the beat of your music

GPU temperature
Changes color with GPU load
Aura Sync
Outshine the competition
The Strix features Aura RGB lighting both on the shroud and backplate. Aura Sync software connects compatible products for a completely customized lightning setup. You can sync to music, change color based on temperature, or select from a large number of patterns and static options. Look out for the Aura Sync logo when you're picking parts for your build.
SOFTWARE
GPU Tweak II

XSplit

wtfast

Quantumcloud

Radeon Software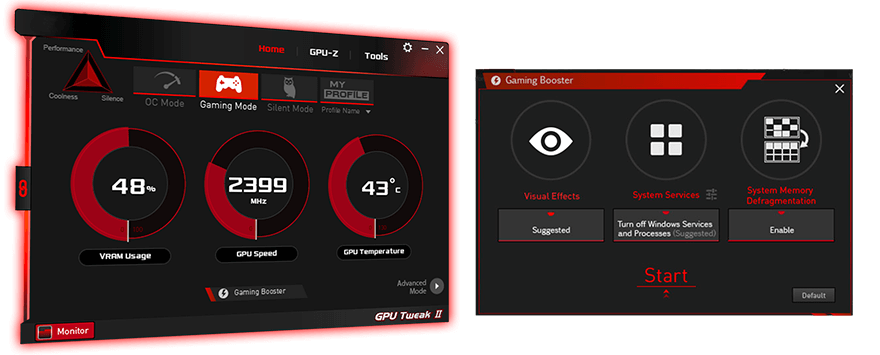 GPU Tweak II
Monitor, tweak, and tune
The ASUS GPU Tweak II utility takes graphics card tuning to the next level. It allows you to tweak critical parameters including GPU core clocks, memory frequency, and voltage settings, with the option to monitor everything in real-time through a customizable on-screen display. Advanced fan control is also included along with many more features to help you get the most out of your graphics card.

AMD Radeon™ Anti-Lag
AMD Radeon™ Anti-Lag minimizes the amount of time between a key press or mouse movement and having that response show up on the screen. For competitive gamers, this feature is a must-have.

Intelligent Sharpening Technology
Radeon™ Image Sharpening (RIS) is a contrast-adaptive sharpening algorithm designed to intelligently enhance details to deliver crisp-looking visuals with minimal performance impact.



FidelityFX
FidelityFX is a collection of high-quality post-process effects that automatically collapse multiple effects into fewer shader passes to reduce GPU overhead.

Radeon™ Boost
Give your games a boost of performance by dynamically lowering resolution to allow higher FPS with no perceived impact to quality.



Integer Display Scaling
Relive the nostalgia of classic games on modern high-resolution displays with Integer Display Scaling. IDS upscales each pixel by a factor of four (or more) to provide a crisp visual experience.
Radeon FreeSync technology requires a monitor and AMD Radeon™ graphics, both with FreeSync support. See www.amd.com/freesync for complete details. Confirm capability with your system manufacturer before purchase.