Cool with
Your Color
MASTERFAN PRO 120
Air Balance RGB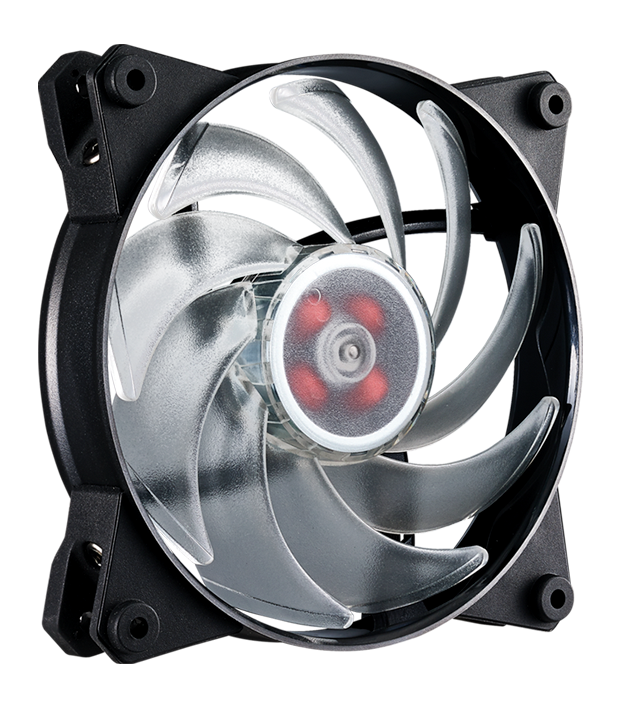 Introducing the MasterFan Pro series
The 
MasterFan Pro 120 Air Balance RGB
 series provides a specific air cooling solution ideally for CPU 
cooler
s and chassis in-take fans. Designed for Builders with RGB-enabled PCs, you can feel the flow with full color fun, and perfect match your PC's theme. The MasterFan Pro series is fitted with multiple layers of our exclusive noise reduction technologies and a perfect blend of fan blade design that put together work in harmony to cool your entire case and its components in silence.

Color Profiles

Quiet Spin

Noise Absorption

Workhorse Stamina

Jam Protection
Designed from
the Skies
AIR BALANCE – HYBRID DESIGN
Draws from both jet engine and helicopter blade designs. The blades propel air farther than the Air Pressure design while still retaining more static pressure than Air Flow.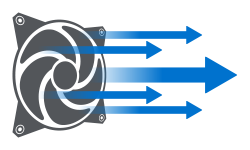 The Design Advantage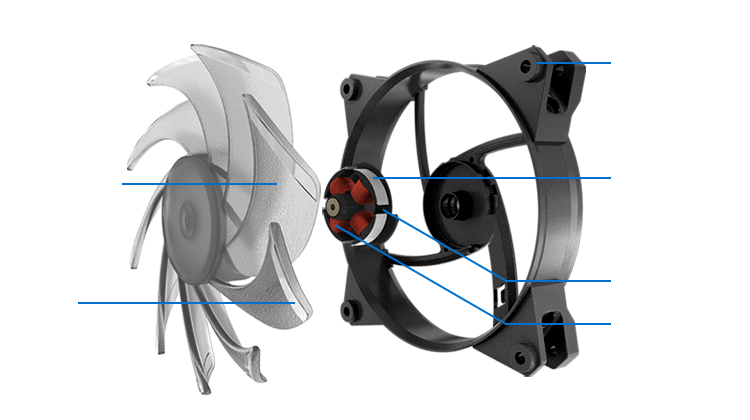 AVIARY INSPIRATION
Each fan blade design was inspired by design from modern aircraft
GLOSSY COATING
Reduces air resistance
RUBBER MOUNTING
with threads to absorb vibrations and rattle noise
SILENT DRIVER IC
Smoothens fan rotation to reduce vibration and fan clicks
RGB LED
BEARING
Precision material with 490,000hr life expectancy (MTTF)
Select Your Color
Bring your rig to life with three color modes. Use red or blue lighting with a simple switch or choose from the entire RGB color spectrum with the optional 
Cooler
Master RGB fan controller (sold separately).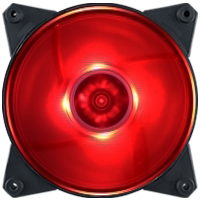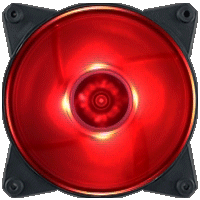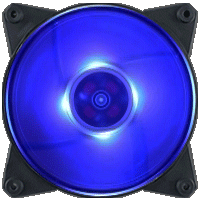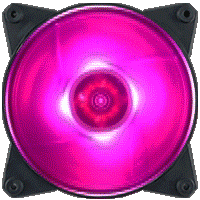 ​
Compatibility List
MasterFan Pro RGB Series requires either "RGB header" on motherboard or "RGB control box" to enable RGB lighting.
It is compatible with most RGB capable motherboards. With their RGB header(s), below is the list of recommended motherboards.
| | | | |
| --- | --- | --- | --- |
| ASUS | Gigabyte | MSI | ASRock |
| MAXIMUS IX FORMULA | Z270X-Gaming 9 | Z270 XPOWER GAMING TITANIUM | Z270 SuperCarrier |
| MAXIMUS IX CODE | Z270X-Gaming 8 | Z270 GAMING M7 | Z270 Taichi |
| MAXIMUS IX HERO | Z270X-Gaming 7 | Z270 GAMING M6 AC | Z270 Extreme4 |
| STRIX Z270E GAMING | Z270X-Gaming K7 | Z270 GAMING M5 | Z270M Extreme4 |
| STRIX Z270F GAMING | Z270X-Gaming SOC | Z270 GAMING M3 | Z270 Killer SLI/ac |
| STRIX Z270G GAMING | Z270X-Gaming 5 | Z270 GAMING PRO CARBON | Z270 Killer SLI |
| PRIME Z270-A | Z270X-Gaming K5 | Z270 GAMING PRO | Fatal1ty Z270 Professional Gaming i7 |
| PRIME Z270-AR | Z270X-DESIGNARE | Z270 SLI PLUS | Fatal1ty Z270 Gaming K6 |
| RAMPAGE V EDITION 10 | Z270X-Ultra Gaming | Z270I GAMING PRO CARBON AC | Fatal1ty Z270 Gaming K4 |
| STRIX X99 GAMING | Z270-Phoenix Gaming | Z070 KRAIT GAMING | Fatal1ty H270 Performance |
| X99-DELUXE II | Z270MX-Gaming 5 | Z270 TOMAHAWK | Fatal1ty H270M Performance |
| X99-A II | Z270N-Gaming 5 | Z270 TOMAHAWK ARCTIC | Fatal1ty B250 Gaming K4 |
| MAXIMUS VIII HERO ALPHA | H270-Gaming 3 | Z270 CAMO SQUAD | Fatal1ty B250M Performance |
| MAXIMUS VIII FORMULA | B250M-Gaming 5 Gaming B8 | B250 GAMING PRO CARBON | |
| | X299 AORUS Gaming 9 (rev.1.0) | B250 GAMING M3 | |
| | X299 AORUS Gaming 7 (rev.1.0) | B250 KRAIT GAMING | |
| | X299 AORUS Gaming 3 (rev.1.0) | B250M GAMING PRO | |
| | GA-Z270X-Gaming 9 (rev.1.0) | B250M MORTAR | |
| | GA-AX370-Gaming K7 (rev.1.0) | B250M MORTAR ARCTIC | |
| | GA-AX370-Gaming 5 (rev.1.0) | B250M BAZOOKA | |
| | GA-AX370-Gaming K5 (rev.1.0) | H270 GAMING M3 | |
| | X299 AORUS Ultra Gaming (rev.1.0) | H270 GAMING PRO CARBON | |
| | GA-AB350-Gaming 3 | H270 TOMAHAWK ARCTIC | |
| | GA-AB350N-Gaming WIFI (rev.1.0) | H270M MORTAR | |
| | | H270M MORTAR ARCTIC | |
| | | H270M BAZOOKA | |
| | | X99A TOMAHAWK | |
| | | X99A SLI | |
| | | X99A WORKSTATION | |
| | | Z170A MPOWER GAMING TITANIUM | |
| | | Z170A GAMING PRO CARBON | |
| | | H170A GAMING PRO | |
| | | B250A GAMING PRO | |
| | | X370 XPOWER GAMING TITANIUM | |
| | | X370 GAMING PRO CARBON | |
| | | B350M GAMING PRO | |
| | | B350M MORTAR | |
| | | B350 TOMAHAWK | |
| | | 970A GAMING PRO CARBON | |
Specifications
MasterFan Pro 120 Air Balance RGB
Model
MFY-B2DN-13NPC-R1
Profile
R Mode (Red)
B Mode (Blue)
RGB Mode (RGB Ready)
Fan Speed (RPM)
650 ~ 1300 ± 10%
Airflow (CFM)
42.7 ± 10%
Air Pressure (mmH2O)
0.96 ± 10%
Fan Noise Level (dBA)
6 ~ 20 (Max)
Rated Current (A)
0.07
Dimensions (mm)
120 x 120 x 25 (4.7 x 4.7 x 1″)
MTTF (hours)
490,000
L-10 Life (hours)
70,000
Rated Voltage
12 VDC
Safety Current
0.45 A
Connector
4-Pin
Weight
162 g
Warranty
5 Years
EAN Code
4719512057766
UPC Code
884102031137
​