Specifications
| | |
| --- | --- |
| Format | DDR4 Unbuffered DIMM |
| Capacity | 16GB (2x8GB) |
| Speed | 3200-16-18-18-38 |
| Voltage | 1.35V |
| Ping Out | 288 Pin |
| Dimension | 133.5 x 51 x 7 mm |
| Warranty | Limited Lifetime Warranty |
DDR4 OC/Gaming memory
"Moving to the Forefront"
By inheriting the CRAS II's bold look, the KLEVV CRAS II RGB DDR4 is the prime choice for
high-end PC users who are looking for both quality and performance.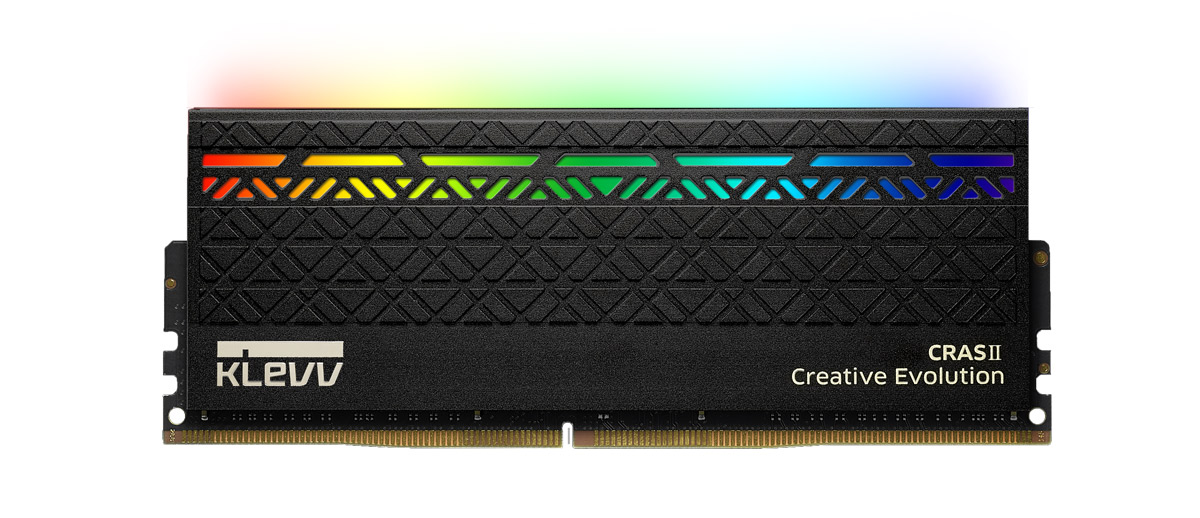 Dynamic RGB lighting with full configurations
By applying the dynamic RGB on the KLEVV CRAS II, an unmistakably beautiful array of colors and motions are created.
Be daring with your customized system by utilizing the CRAS II RGB's 2, 4, and 8 modules kit.
Compatible with the multiple RGB software
ASUS AURA SYNC, GIGABYTE RGB FUSION and msi mystic LIGHT SYNC RGB software enables fully programmable RGB lighting effects, memory monitoring and additional integration with other RGB PC components.You can download the software in below.
Static

Breathing

Strobing

Color Cycle

Rainbow

Comet

Flash & Dash

Music Effects

Temperature
CRAS II RGB supports the latest Intel 200 series chipset as well as the AMD AM4 platforms. Be sure to experience the superb performance of CRAS II RGB with Intel and AMD RYZEN.
KLEVV, as an official sponsor of the no.1 global League of Legend eSports team "SKT T1", continues to contribute to eSports all over the world.
Outstanding Thermal Conductivity
While using 99.5% pure aluminum with a high heat conductivity,CRAS II's pattern and design maximize the surface area to break up the heat efficiently. This lowers the heat sink temperature to almost 25℃ while increasing both the durability and stability.
Memory
Protection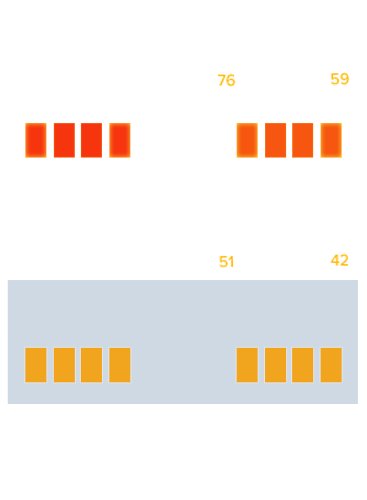 Prestigious Looking Materials
The heat conductivity and durability are maximized while the heat sink is made lighter with 99.5% pure aluminum. Additionally, KLEVV's unique black and gold colors are heightened through utilizing the aluminum anodizing method. The CRAS II heat sink represents modern simplicity with its matte texture
Intricate Triangular Pattern
The CRAS II RGB completes its unique look by applying the triangular patterns with symmetry and repetition. The triangular pattern signifies creativity, harmony, proportion, illumination, integration and culmination.
Stunning 3-side RGB
With three sides of exquisite RGBs, the CRAS II RGB's new design looks flawless from any angle. Furthermore, the overall quality has been raised by using polycarbonate material which is harder and has greater elasticity than any other design.
Rigorous Quality and Reliability Test
Each product is tested with a 3D inspection, and the quality is strictly managed through conducting test reports.
Intel Latest
Chipsets
AMD RYZEN7
&
RYZEN
THREADRIPPER
Intel XMP 2.0
certified product