Specifications
Format
DDR4 Unbuffered DIMM
Capacity
8GBx2(16GB), 16GBx2(32GB)
Speed

3200 16 – 18 – 18 – 38 @ 1. 35V
3466 17 – 19 – 19 – 39 @ 1. 35V

Dimension
(L) 133.5 x (W) 51 x (H) 8mm
Warranty
Limited Lifetime Warranty
DDR4 Gaming/OC memory
CRAS X RGB, which followed the design of CRAS series,
newly defines the possibility of the next generation game memory
KLEVV's new CRAS X RGB DDR4 provides an ideal gaming memory for gamers,
maniacs and overclockers by fully controllable RGB lighting and sophisticated heat sink.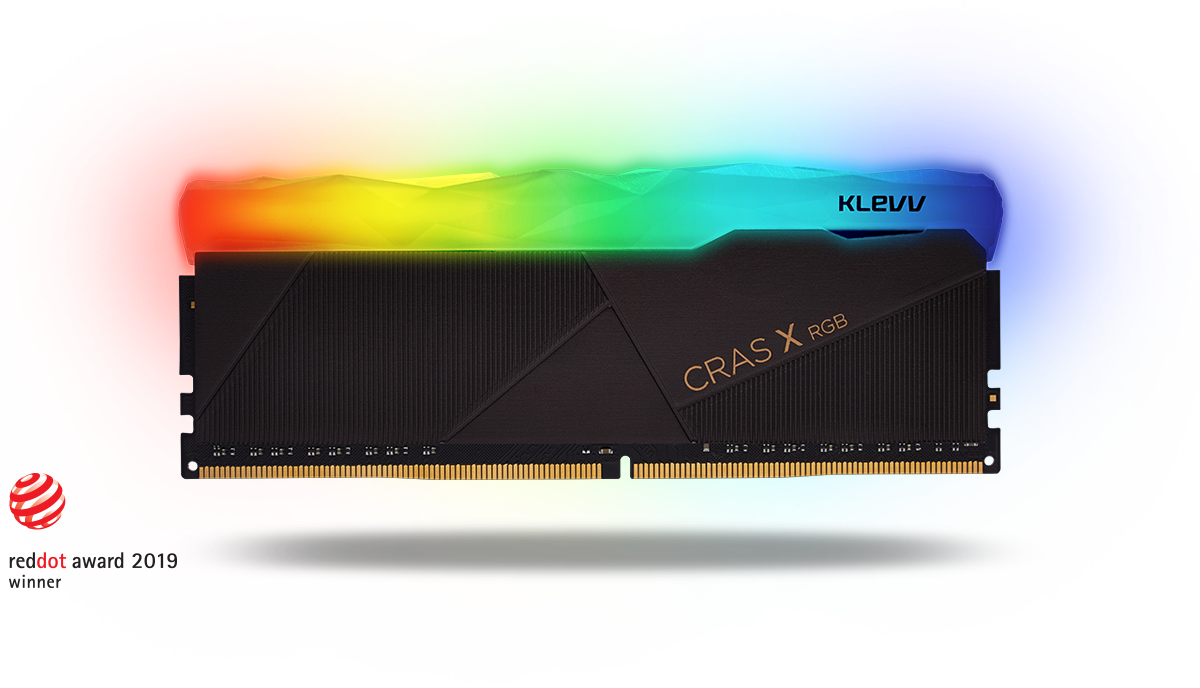 The new CRAS X RGB has passed rigorous internal standards to secure,
not just the evolution of speed and function, but a new level of safety and compatibility.
It is perfectly compatible with the current Intel platform and it's certification enables it
to operate in ASUS, MSI, GIGABYTE, ASROCKs own RGB software.
Not only does it provide RGB synchronization to various PCs,
but also offers RGB lighting mode with diverse colors that makes an artistic appearance.
KEY FEATURES
QVL
Verified
Quality
RGB
Lighting
Supporty
XMP 2.0
One-step
Overclocking
1.35V
Reduced
Voltage
3200/3466
Enhanced
Performance
Gemlike Design to Show Vivid Lighting Flows
CRAS X RGB comes in a differentiative and artistic design by diffusing
RGB lights in various angles
Aluminum Heat Spreader to Strengthen
Thermal Conductivity
CRAS X RGB applied a metal heater made of pure aluminum to
maximize the thermal conductivity
Perfect RGB Device
CRAS X RGB provides both free control environment and full control of
all memory through perfect compatibility with the RGB control software of
every major main board brand
Intel Latest
Chipsets
AMD RYZEN3,5,7
&
RYZEN
THREADRIPPER
Intel XMP 2.0
certified product
When using Intel or RYZEN platform, please update and use the latest version of the BIOS on the motherboard.
In some specific PC environment, the platform itself may not be supporting quad channel.
KLEVV Memory module complies with multiple international standards