HYPER
212 LED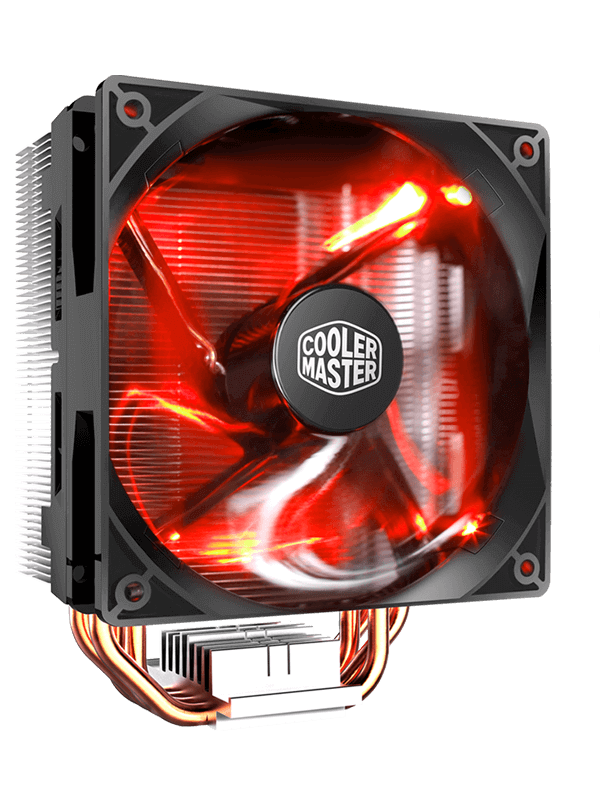 Introducing the
Hyper 212 LED
Hyper 212 LED is equipped with PWM fan with red LEDs, providing the best balance between airflow and static pressure to take the heat away.
4 Direct Contact
Heatpipes
Four Direct Contact heatpipes with funnel shaped aluminum fins provide higher efficiency and excellent heat dissipation compared to generic metal bases.
Dual Fan Design
Increase cooling performance by adding an optional second 120mm fan.
XtraFlo 120mm PWM Fan with Quick-snap Fan Bracket Design
New 120mm PWM fan with anti-vibration rubber pads and wide 600-2000 RPM range and quick-snap cover for easy fan installation.
Universal
Mounting Kits
Design
The improved universal bracket design ensures easy and worry free installation on all platforms.
Specifications
Product Name
Hyper 212 LED
Model number
RR-212L-16PR-R1
CPU Socket
Intel® LGA 2066 / 2011-3 / 2011 / 1366 / 1156 / 1155 / 1151 / 1150 / 775 socket

AMD® AM4* / AM3+ / AM3 / AM2+ / FM2+ / FM2 / FM1 socket

Dimensions (LxWxH)
120(L) x 84(W) x 160(H) mm
Heat Sink Dimensions (LxWxH)
116(L) x 60(W) x 160(H) mm
Heat Sink Material
Aluminum (Fins)
Copper (Heatpipes)
Heat Sink Weight
468g
Heat Pipes Diameter
Ø6mm
Fan
Fan Dimensions (LxWxH)
120(L) x 120(W) x 25(H) mm
Fan Speed
600-1,600 RPM ± 10%
Fan Airflow
66.3 CFM ± 10%
Fan Air Pressure
1.7 mmH2O ± 10%
Fan Life Expectancy
280,000 hrs
Fan Noise Level (dBA)
9-31 dBA
Fan Bearing Type
Rifle Bearing
Fan Connector
4-Pin (PWM)
Fan Rated Voltage
12 VDC
Fan Rated Current
0.19 A
Fan Power Consumption
2.28 W
Fan Weight
166g
Warranty
2 years
EAN Code
4719512053379
UPC Code
884102029486
Note
* Due to mechanical limitations, AM4 upgrade kit is only supported by the Hyper 212 LED_AM4 compatible version. To find out your existing cooler's compatibility, please check here.
​