Description
More Information
P/N
CL-W263-PL00SW-A
DIMENSIONS
360 (L) x 120 (W) x 84.8 (H)
INTERFACE
USB 2.0 connectors (9 Pin)
SYSTEM COMPATIBILITY
Windows 7 / 8 / 8.1 / 10
POWER INPUT
37 W / 3.5 W
PUMP
P1: 1,800 RPM
P2: 2,550 RPM
P3: 3,300 RPM
P4: 4,050 RPM
P5: 4,800 RPM
CONNECTOR
4 Pin
MATERIAL
PMMA
MAX AIR FLOW
1135 L/h
MAX. AIR PRESSURE
50 PSI
RATED VOLTAGE
12 V / 5 V
CAPACITY
200 ml
PARTS
Stopper *4 (G 1/4 )
SCREW THREAD
G 1/4
Pacific DP100-D5 Plus
The Thermaltake Pacific DP100-D5 Plus is a distribution plate with a pre-installed D5 pump, the distro is universal and can be fitted to most 360mm radiator fan mounting points. Furthermore can be synced with our TT RGB PLUS Ecosystem.
Full RGB Illumination Design
The built-in 18 addressable LEDs feature great light coverage. The lighting is compatible with TT RGB PLUS and ASUS, GIGABYTE, MSI, and ASROCK RGB software.
Straightforward Installation
Compatible with multiple chassis, allowing universal fitment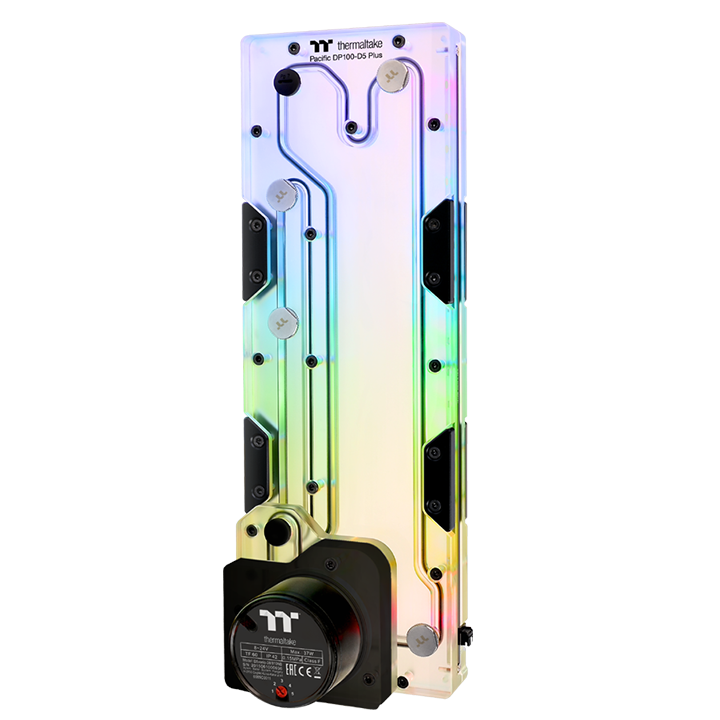 Supports 360mm radiator mounting points
Requires a chassis that supports 2 or more 360mm radiators of space for installment
High quality 18mm thick PMMA
The reservoir is made with 18mm thick PMMA which guarantees quality and pressure resistance.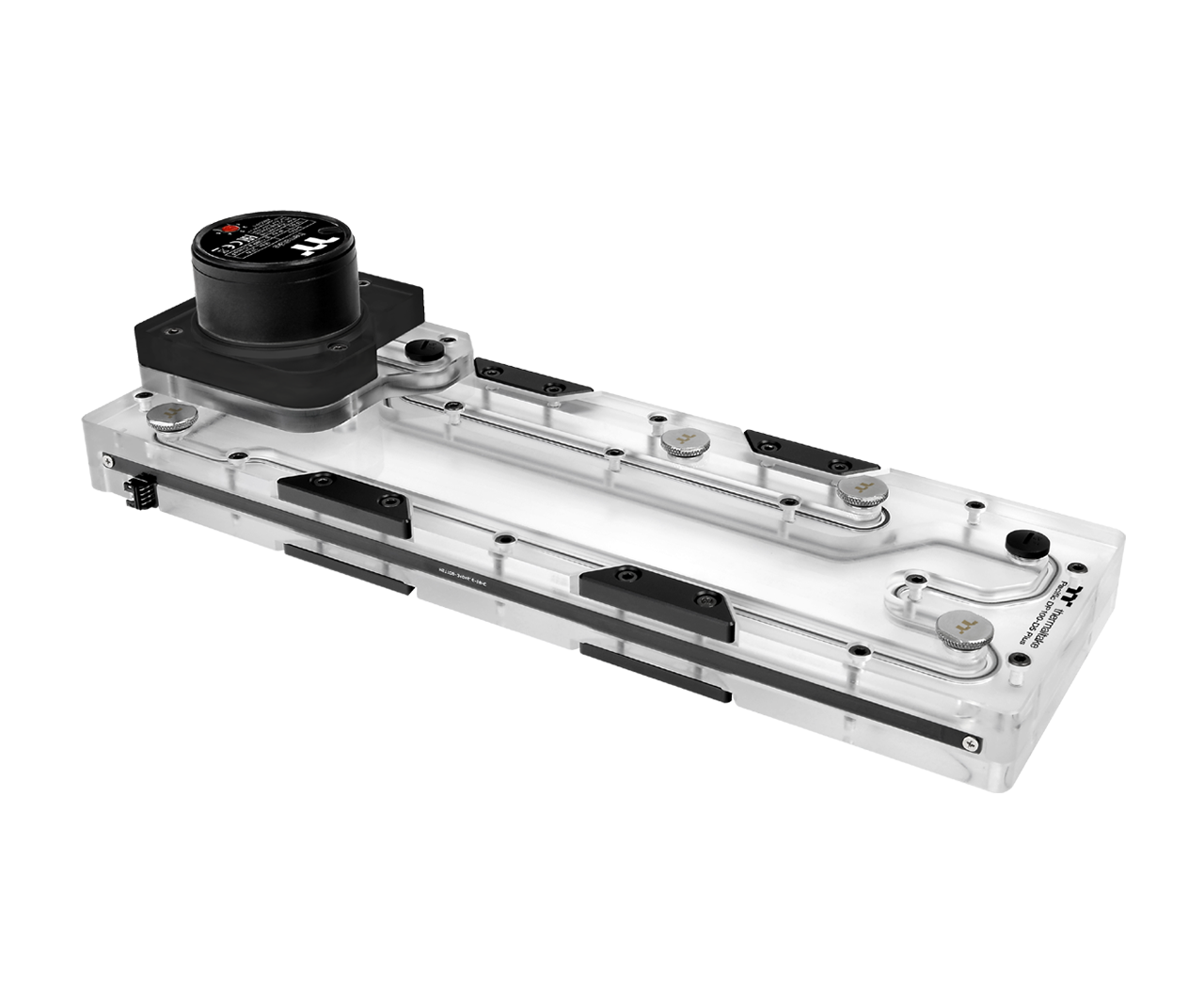 D5 Pump
The D5 Pump on the DP100-D5 Plus features exceptional performance and unrivalled reliability, having a lifecycle of 50,000 hours MTBF.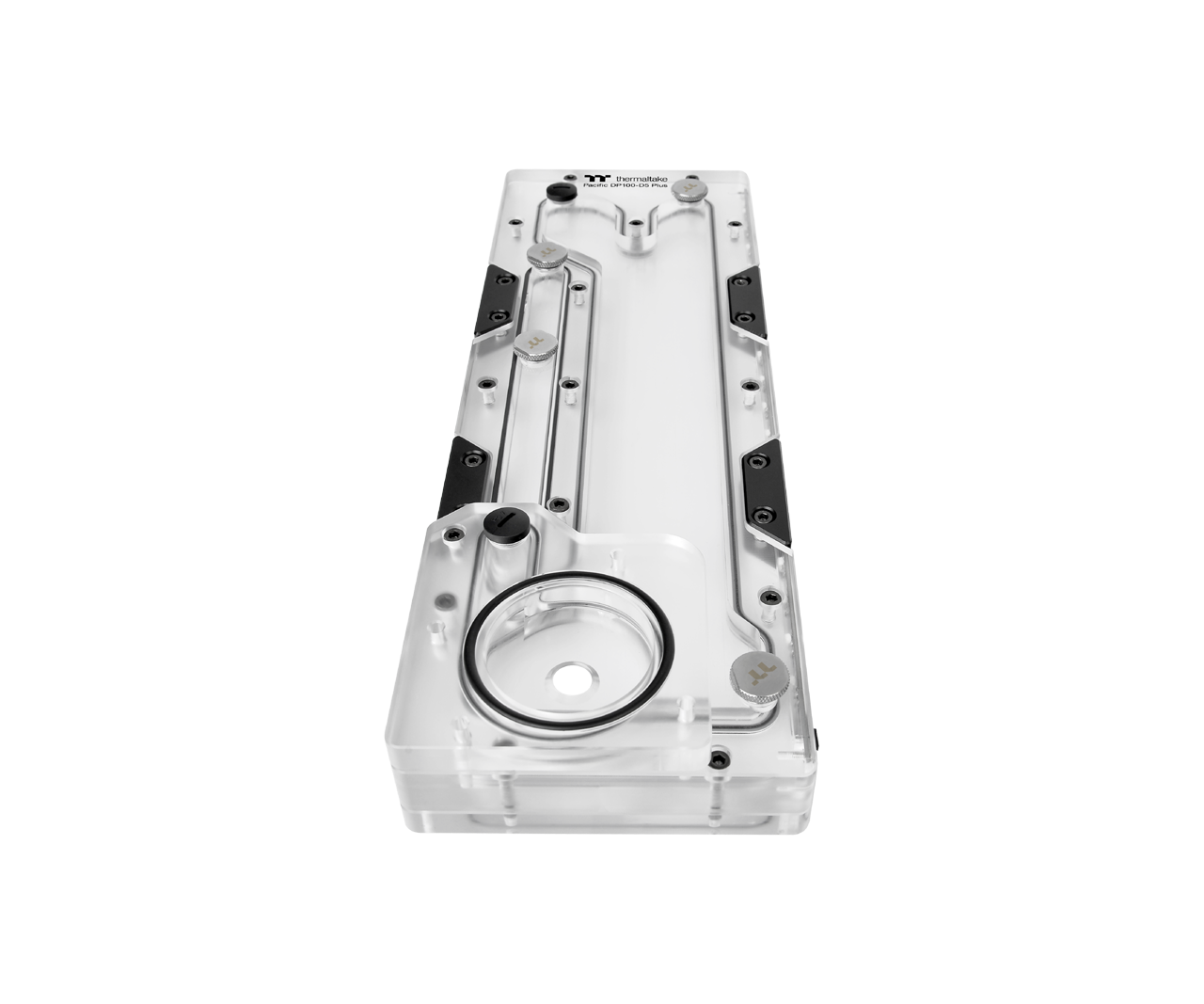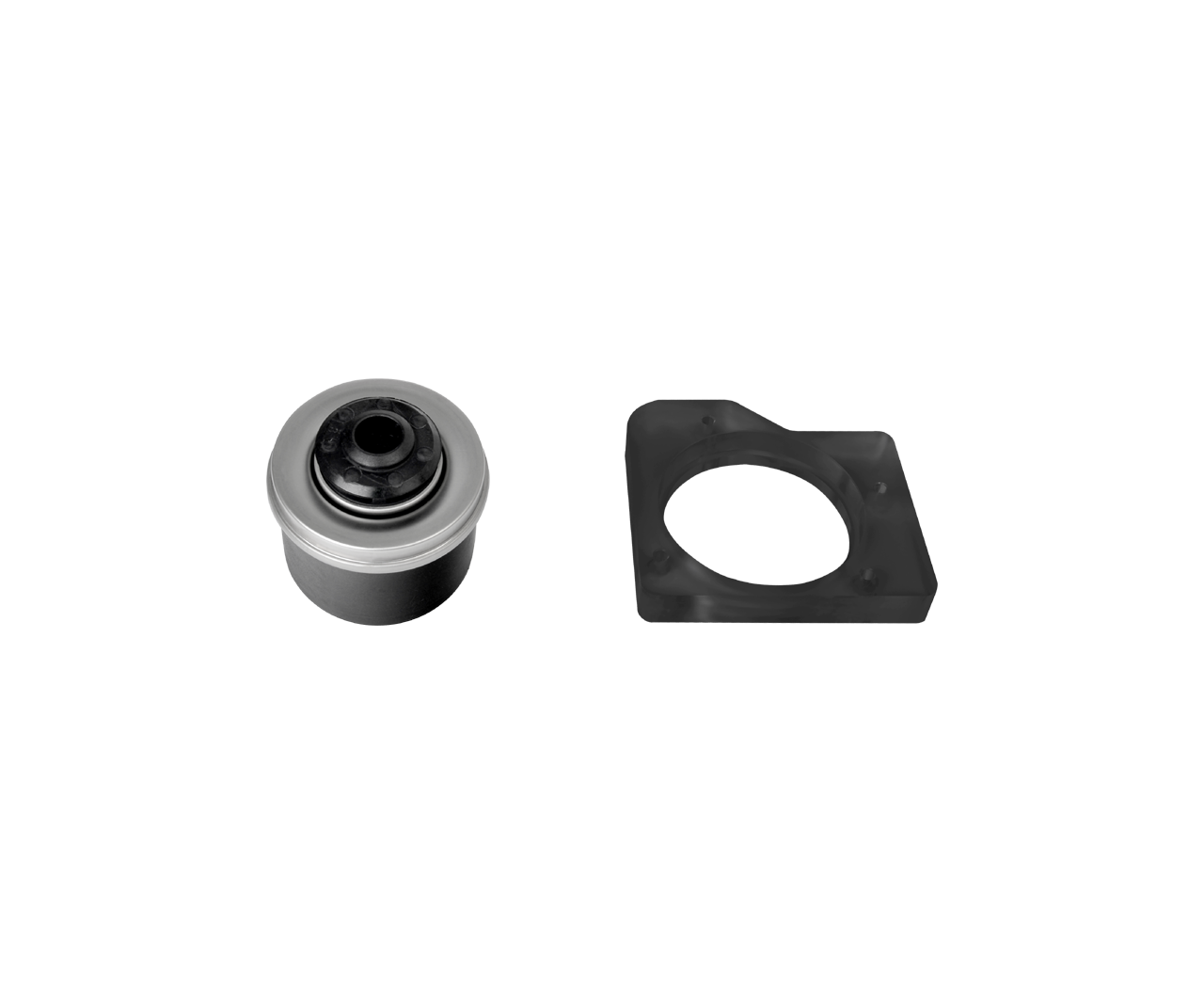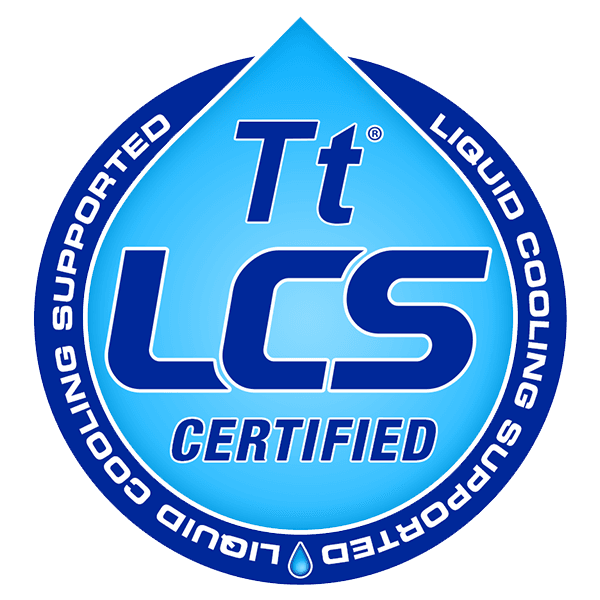 Tt LCS Certified
Thermaltake exclusive certification applied only to products that pass the design and hardcore enthusiast standards that a true LCS chassis should hold to.
TT RGB PLUS
TT RGB PLUS Ecosystem is the intelligent lighting system for PCs that combines the most advanced addressable LED lighting with Thermaltake's patented TT RGB PLUS Software.Learn More
AI Voice Control
TT AI Voice Control App enables users to control light switch, color and fan speed by talking to mobile devices.Download Voice Input Command
For desktop: Requires TT RGB PLUS Software 1.1.5 version or later.
For iOS: Requires iOS 10.0 or later.
For Android: Requires Android 6.0.0 or later with screen resolution 1920 x 1080.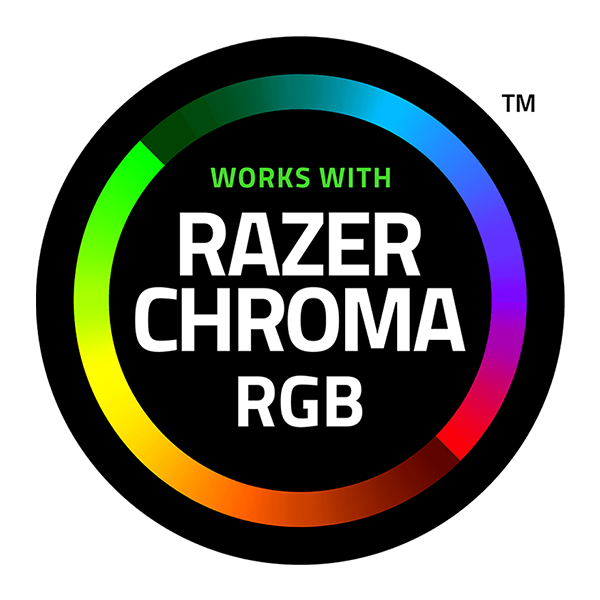 Works with Razer Chroma
All Thermaltake TT RGB PLUS products are able to connect into the Razer Chroma ecosystem. Users who have installed both the TT RGB PLUS Software and Razer Synapse 3 can experience synchronized gaming and RGB lighting effects on their TT RGB PLUS liquid cooling system and gaming gear! From cooldown timers, health bars, and flashy ultimate indicators, to subtle ambient lighting that sets the perfect mood for each game, Razer Chroma provides an experience that transcends the screen and into your full setup, for a truly immersive experience. *At least one Razer Chroma product and one TT RGB PLUS product is required for synchronization.
Works with Amazon Alexa
All Thermaltake TT RGB PLUS products support Amazon Alexa Voice Service, allowing you to control the lights or fan speeds by talking to the Alexa-enabled device. With the support of Amazon Alexa, TT RGB PLUS products also offer an additional visual cue for checking current weather condition in your location or anywhere in the world. All you have to do is simply starting the sentence with "Alexa, tell Thermaltake", then the lighting color will correspond to the weather condition in the location.
Sync with Motherboard RGB Software
Designed to synchronize with ASUS Aura Sync (Generation one only), GIGABYTE RGB Fusion, MSI Mystic Light Sync and ASRock Polychrome. It supports motherboards that have a 5V addressable RGB header, allowing you to control the lights directly from the above-mentioned software without installing any extra lighting software or controllers. For more details, please visit ASUS, GIGABYTE, MSI and ASRock official websites.
ASUS MB: Supports ASUS AURA SYNC Generation one only.
Cautions
Thermaltake recommends the following steps to be taken before using the Pacific series radiators and water blocks
To ensure a clean loop, flush and rinse your radiators and water blocks with distilled water prior to use.
Do not use tap water or distilled water as your coolant, it may harm your loop and reduce performance.
It is strongly recommended to use market proven pre-mix coolant, such as Thermaltake Coolant 1000. It offers great performance while protecting the entire liquid loop from corrosion.
Before storing your water cooling components, please clean, rinse and dry. This will ensure a longer lifespan for your components.
Thermaltake recommends the following steps to be taken after completing your water loop setup
It is strongly recommended to use market proven pre-mix coolant, such as Thermaltake Coolant 1000. It offers great performance while preventing the entire cooling system – copper, brass, nickel, aluminum, and steel – from corrosion.
Fill the reservoir with coolant and cycle the power on and off several times while the pump pushing the coolant into the loop.
DO NOT let the pump run dry, when there is no liquid entering the pump turn off your power immediately
Fill the reservoir to the top as it will prevent air from going into the pump
If necessary tilt the system slightly from side to side to bleed the air out of the loop.
Place some paper towels under fittings and joining points to test for leaks.
Run the loop with the fill port open for about 24 hours to completely bleed the air out of the loop
Before starting, flush out your system correctly to prevent any coolant or unwanted particles sticking to your tubes, radiators and other cooling components.
Coolant might fade over time.